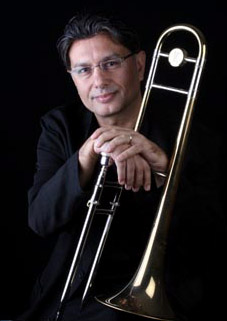 Aycan Teztel (1959 )
Aycan Teztel started his music life in 1970 at the Istanbul Municipal Conservatory.
He graduated from the trombone department at the conservatory in 1979.
The same year he entered the Rotterdam Conservatory in the Netherlands and studied for five years with the principal trombonist of the Rotterdam Philharmonic, Gerard Velthuijsen. He gave concerts with the Rotterdam Conservatory Trombone Ensemble.
Aside from taking classical lessons, he took jazz piano and ensemble lessons from Cees Slinger for a short period. In 1983, he gave various performances within the workshop given by the Metropole Orchestra. In 1984 graduated from the Rotterdam Conservatory with a "Uitvoerend Musicus" trombone degree.

Teztel started teaching at the Mimar Sinan University in Istanbul as artist faculty in 1985. While teaching, Teztel gave many performances as a member of the Istanbul Brass Ensemble and the Istanbul Trombone Ensemble. He also gave television performances and chamber music recitals with the trumpetist, Gokmen Noyan and pianist, Meral Beşeli.

In 1989, he entered Boston University SFA's graduate program with the "Director's Award." Here, he studied with the Boston Symphony trombonist, Norman Bolter. He took chamber music lessons from the Empire Brass Quintet members, Rolf Smedvig and Scott Hartman. While playing with B.U. jazz Lab Big Band, he had a chance to play with renown musicians such as Randy Brecker. He returned to Turkey and completed his master's degree at the Mimar Sinan University State Conservatory in 1993.

Aside from his classical projects, he formed the jazz big band, in 2002, uniting the best jazz musicians of Turkey with the talents of the young generation. He conducted this band in many performances, which included events  with Grammy winning artists,
such as, Dianne Reeves, Dee Dee Bridgewater, Natalie Cole and Kurt Elling,  The band has performed in Istanbul, İzmir European, Ankara, Leverkusen and Aalen international jazz festivals.

Teztel has also performed with many prominent artists, such as, Clifford Jordan, John Scofield, Jose Careras, Vinko Globakar, Dzhihan & Kamien, Nicola Conte Sammy Figueora, Giovanni Hidalgo and Dave Weckl in various projects.
 
Aycan Teztel works as artist faculty at the Istanbul University State Conservatory and teaches classical & jazz trombone and ear training.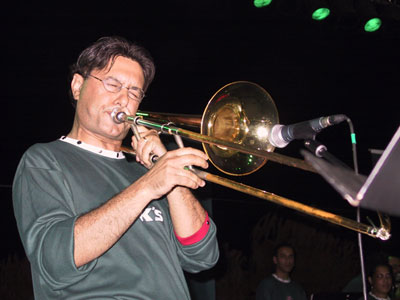 ---
Some of Aycan Teztel's performances:
-Performed with pianist, Fransje Dorst (1982-the Netherlands)
-Played in the Chamber Orchestra directed by Vinko Globakar
(1983-the Netherlands and Belgium)
-Member of Rotterdam Conservatory Brass Ensemble (1984-the Netherlands)
-Graduation recital (1984-the Netherlands)
-Recital (1985-Turkey)
- Istanbul Trombone Ensemble Concert (1989-Turkey)
-Member of the Boston Trombone Co. Tb Quartet(1990-USA)
-Member of the B.U. Jazz Lab Big Band, conducted by James O'Dell,
with Randy Brecker as soloist (1990-USA)

-Bass player in the Askin Arsunan band(1991-1995)

-Bass player in the "0 212" band (1995-1997)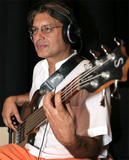 -Member of the symphonic orchestra in the 3rd International Eskisehir Festival
conducted by Betin Gunes (1997-Turkey)
-Keyboard player with the CRR Symphony's concert
with Jose Carreras (1998-Turkey)
-Keyboard player in the Fahir Atakoglu orchestra in the 2nd International Istanbul Jazz Festival.

-Keyboard player with the Fahir Atakoglu Orchestra at the George Washington University Lisner Auditorium. (1999-USA)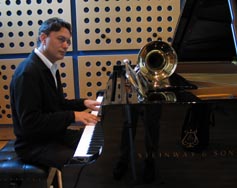 -Played trombone and keyboards in the 7th International Istanbul Jazz Festival in the Askin Arsunan Ethno-Karma Project.(2000-Turkey)
-Performed as soloist, J.Casterede's "concerto for trombone, trumpet, piano and strings" with trumpet player, Erden Bilgen. (2001-Turkey)
-Member of the MIAM Istanbul Modern Music Ensemble, conducted by Kamran Ince, between 2001-2002 (Turkey)
-Played trombone in the Dzihan and Kamien Orchestra at the Porgy and Bess jazz club (2002-Austria)
-Conducted Beck's Big Band in the 2003 Is Sanat and the 10th International Istanbul Jazz Festival concerts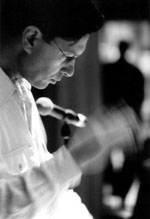 -Conducted All Star Big Band in the 2003
-Conducted Istanbul Superband in the 2004 International Istanbul Film Festival
-Conducted Istanbul Superband & The Rat Pack Trio in Is Sanat Concert hall , 2004

-Conducted Istanbul Superband in the 2004 11th International Istanbul Jazz Festival concerts
feat. John Scofield

-Conducted Istanbul Superband in A.K.M Concert hall , 2005
-Conducted Istanbul Superband in the 2005 12th International Istanbul Jazz Festival concerts
feat. Dianne Reeves
-Played trombone in the Hi-Jazz band - 13th International Istanbul Jazz Festival
4th Phaselis Festival (2006) and Izmir Jazz Festival (2007)

-Played trombone in the Okan Ersan band - 27th International Leverkusen Jazz Festival
(2006- Germany)
-Conducted Istanbul Superband in the 2007 11th International Ankara Jazz Festival

-Played trombone in the Okan Ersan & Istanbul Superband - 28th International Leverkusen
Jazz Festival and International Aalen Jazz Festival (2007- Germany)

-Played trombone in the group "Turkophony" feat: Dave Weckl - Ghetto (2008-Turkey)

-Played trombone in the band of Natalie Cole with Istanbul Superband (2009 -Turkey)
-Conducted Istanbul Superband feat: Dee Dee Bridgewater in the 16th European Izmir Jazz Festival (2009 - Turkey)
--Conducted Bosphorus Symphonic Orchestra feat: Fatih Erkoc (Istanbul 2010)
- Played trombone in the group, feat: Giovanni Hidalgo (Istanbul 2011)

--Played bass guitar in the group 0212 , Blue Print & Grup Jazz-ino( 2000 - 2016 )
- Conducted Istanbul Superband in Is Sanat Concert hall feat. Kurt Elling (İstanbul / 2013)
- Played trombone in the C.R.R. Big Band (İstanbul / 2014-2016)

- Played trombone in the İstanbul Superband feat: Okan Ersan - Jazz a Carthage & Tunisia 15.04.2016)
-- Conducted Istanbul Superband in Is Sanat Concert hall feat. Michael Feinstein (İstanbul / 2017)Played bass guitar in Askın Arsunan & Jazzino Band - Ankara Jazz Festival ((Ankara 03 .05.2016)