ISTANBUL TROMBONE ENSEMBLE
---
2015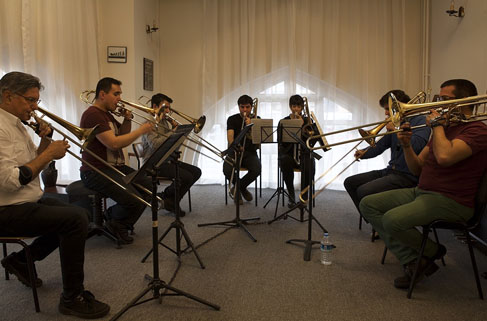 ---

December,15
BRASS
CHAMBER MUSIC COMPETITION WINNER:
"istanbul trombone ensemble"
---

The 2005 Chamber Music Competition, organised by
(Center for Advanced Studies in Music)
MIAM took place on December 15. The first prize was given to
the "Istanbul Trombone Ensemble",
consisting of Eray Zikgus, Tolga Akkaya, Asli Ersen,
Gokay Goksen, Bulut Gulen, Asli Ozer, Taskin Akarsu,
Dogan Aykon (8 trombones) & Kemal Oksal (tuba)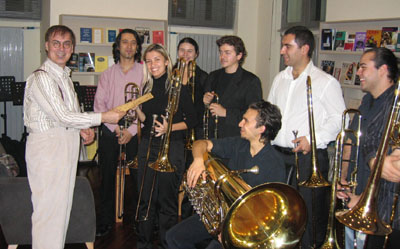 Trumpet artist Erden Bilgen handing the award ,
---

Istanbul Trombone Ensemble was formed by Aycan Teztel in 1986.
In concerts, the ensemble consists of various combinations of
4 to 12 trombones.
The ensemble has a wide repertoire, ranging from
Baroque to 20th Century.
Jazz pieces are also included in concert programs.

The ensemble trombonists; from 1986 on:

Aycan Teztel, Murat Kirmanoglu, Murat Demiral, Dogan Aykon,
Berna Sagdic, Emre Kayhan, Hakan Cimenot, Ebru Ulaman,
Tolga Akkaya, Aslı Yurtcan, Gokay Goksen,Eray Zikgus,
Asli Ozer, Bulut Gulen, Okan Barut, Fatih Erkoc,
Taskin Akarsu & Kemal Oksal
Istanbul Trombone Ensemble participated as a quartet in the
1st International CRR Youth Festival in 1996.
The same year, they gave a concert in the 24th International Istanbul Music Festival Young Artists Program.
The ensemble started out with 4 trombones in this concert and ended with a piece written for 10 trombones, bass and drums.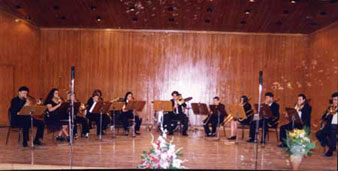 Istanbul Trombone Enemble 24th International Istanbul Music Festival
Aycan Teztel, Berna Sagdic, Aslı Yurtcan, Gokay Goksen, Ebru Ulaman,
Okan Barut, Eray Zikgus, Asli Ozer, Hakan Cimenot, Emre Kayhan, Murat Demiral

In the 3rd International CRR Youth Festival, the ensemble
performed as 8 trombones. The ensemble also played the
"Poco Adagio" from Brahms' Third Symphony
in AKM Concert Hall.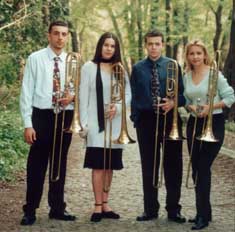 İstanbul Trombon eEnsemble, 29th International Istanbul Music Festival
Eray Zikgus- Asli Ozer-Gokay Goksen-Aslı Yurtcan
Members of the ensemble, Asli Yurtcan, Okan Barut,
Asli Ozer and Eray Zikgus won the Jury prize in the 2001 Corum Young Talents Chamber Music Competition.
In the 29th International Istanbul Music Festival Young Talents Series, the ensemble performed works from Pergolesi, Serocki,
Saint-Saens, David, Gunes and Garfunkel. Duke Ellington's
"Caravan" was also played with a jazz trio accompaniment.

Right now the ensemble consists of Tolga Akkaya,
Asli Yurtcan, Gokay Goksen, Asli Ozer,Bulut Gulen,
Dogan Aykon,Taskin Akarsu, Eray Zikgus, Kemal Oksal and
our recently-joined member,Fatih Erkoc.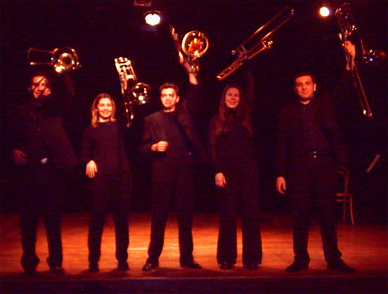 2003